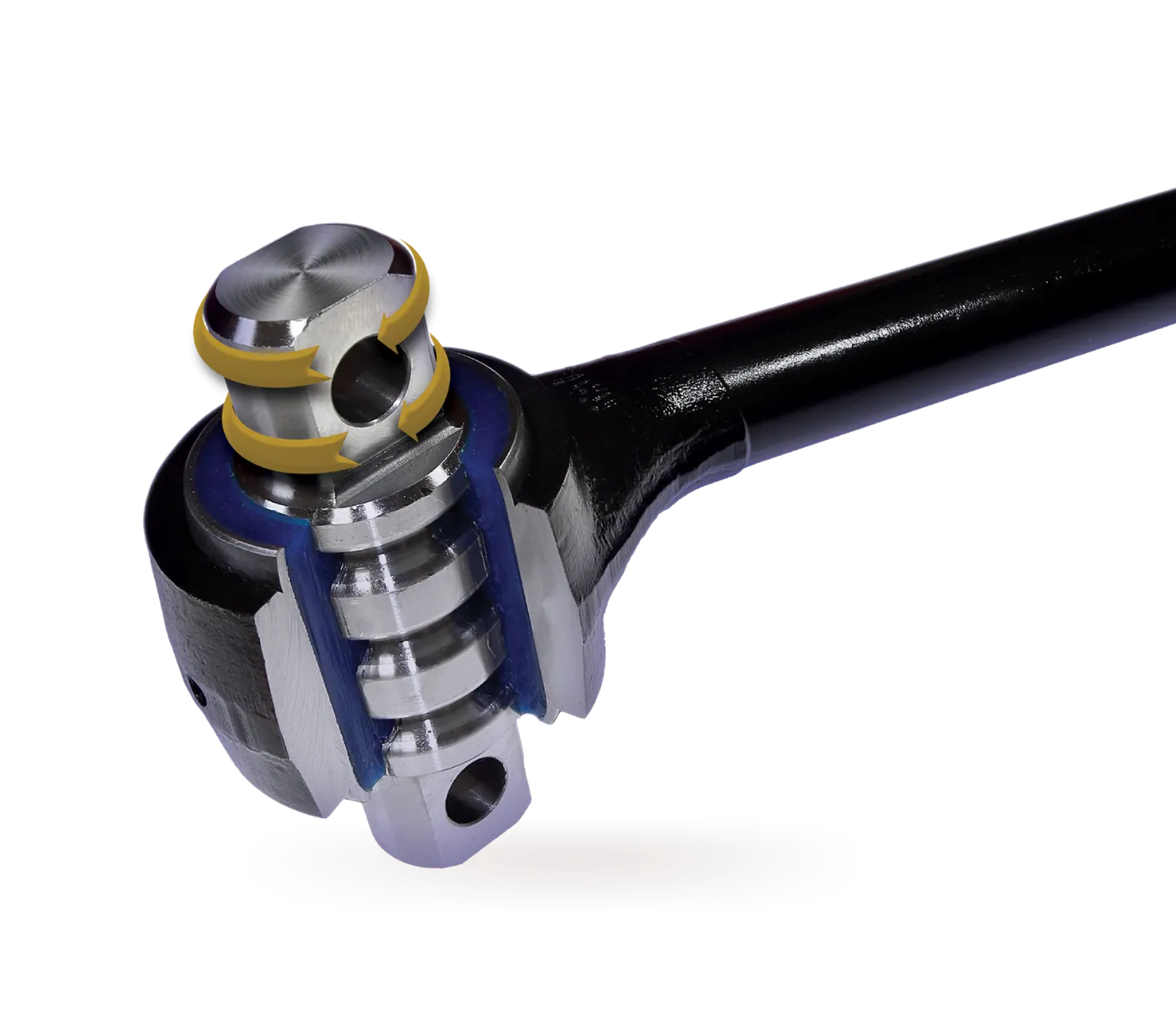 Movement at the rod eye of greater than 1/8" is sign of a failed torque rod
A bad torque is a CSA 7 point violation

70% of all steer tire wear originates from the drive axle
A suspension misaligment of 0.10 ≈ 1/10" can cause up to 100 miles of tire scub per 125,000 miles traveled

SIGNS OF A FAILED TORQUE ROD
CORROSION
This can be caused by a chemical attack such as acid wash or road treatments. 
BUSHING WINDUP
This is a condition that is caused when the clocking of the bushing is not correct. It can be seen in rotational cracks at the end of the bushings. While not technically failed, it is an indicator that failure is approaching.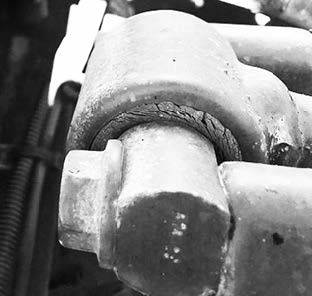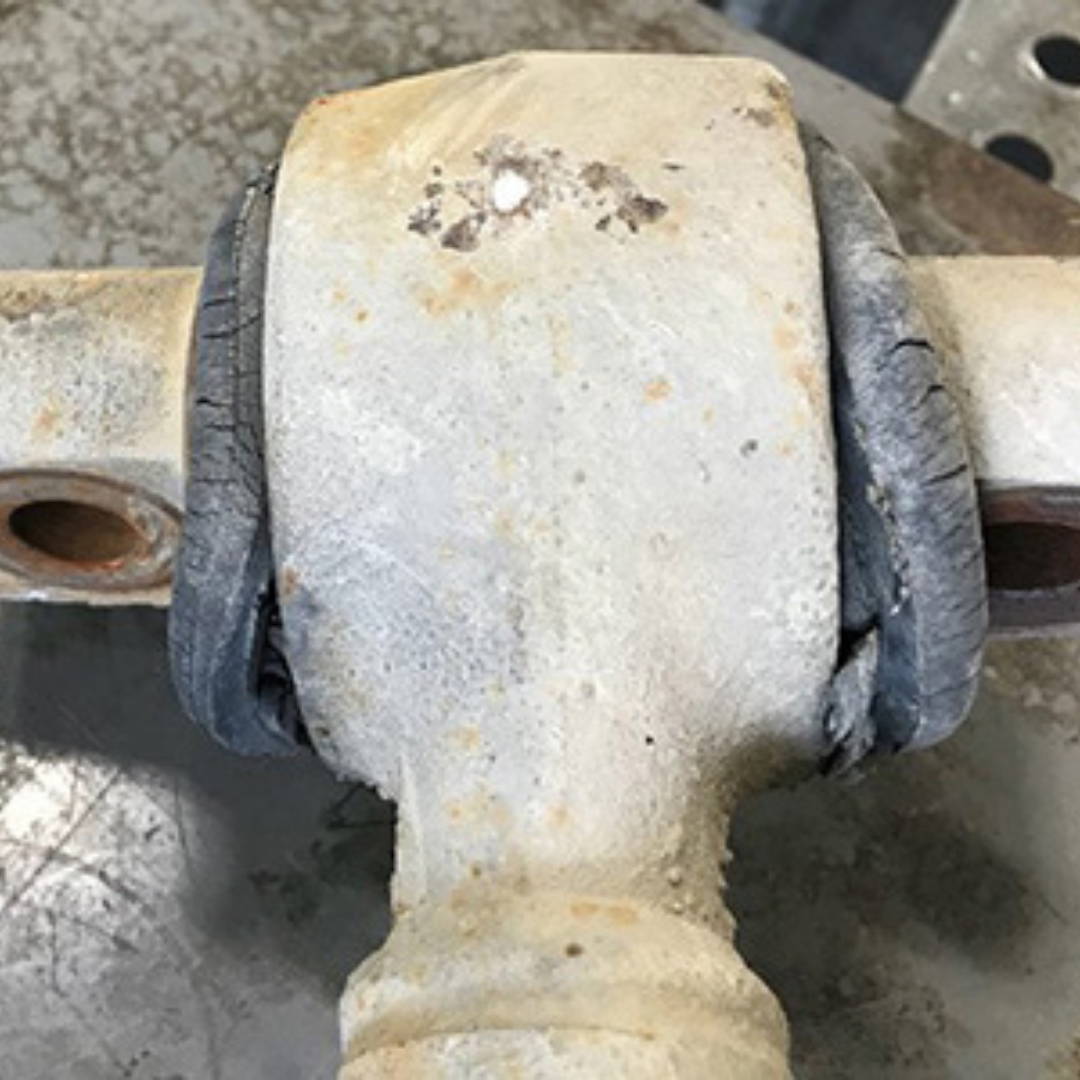 TORN ELASTOMER
This can be caused by overextension beyond the articulation capabilities or repeated shock to the bushing.
BUSHING EXTRUSION OR DEFORMATION
This can be caused by exceeding the rating of the suspension or contaminates that cause an "oil soaked" condition.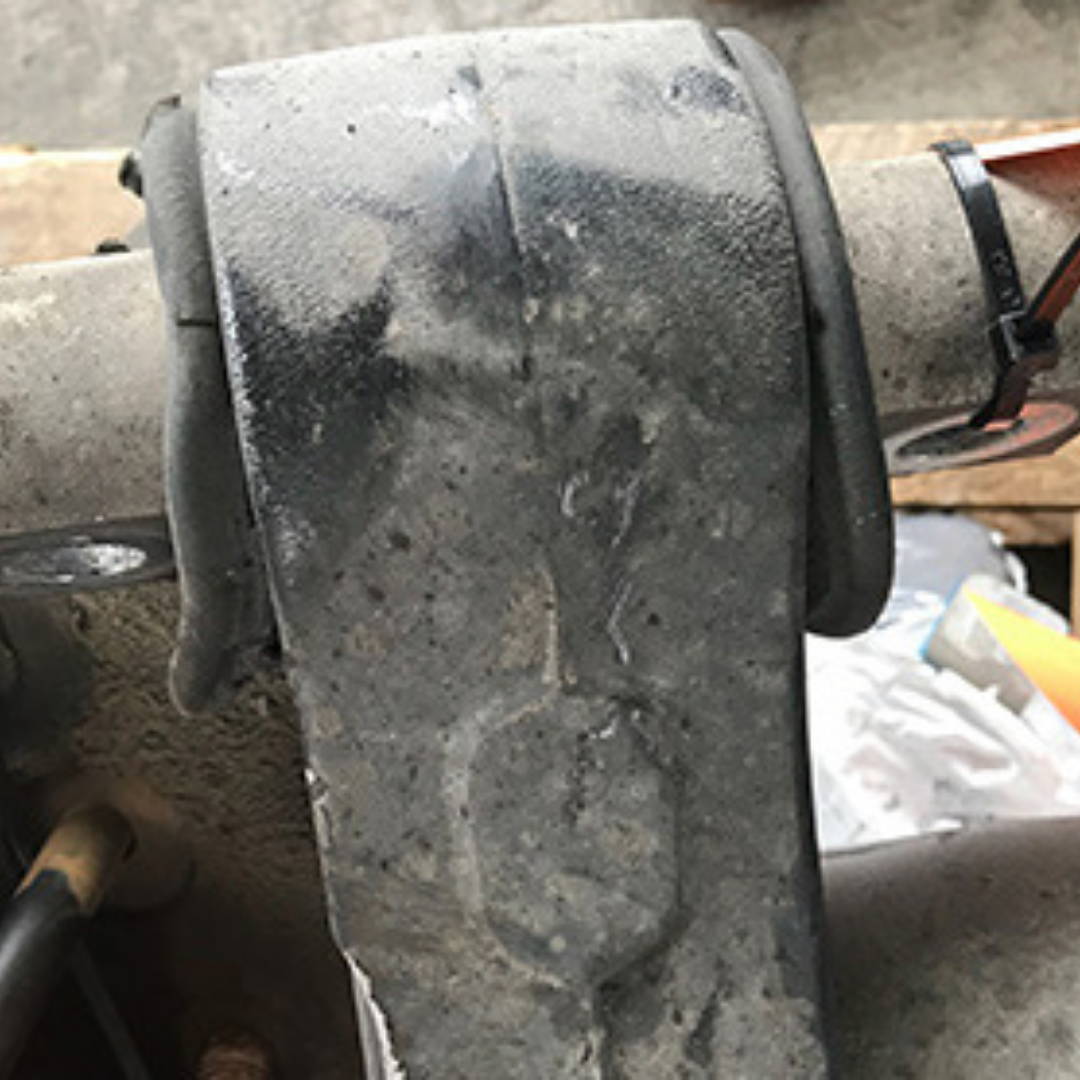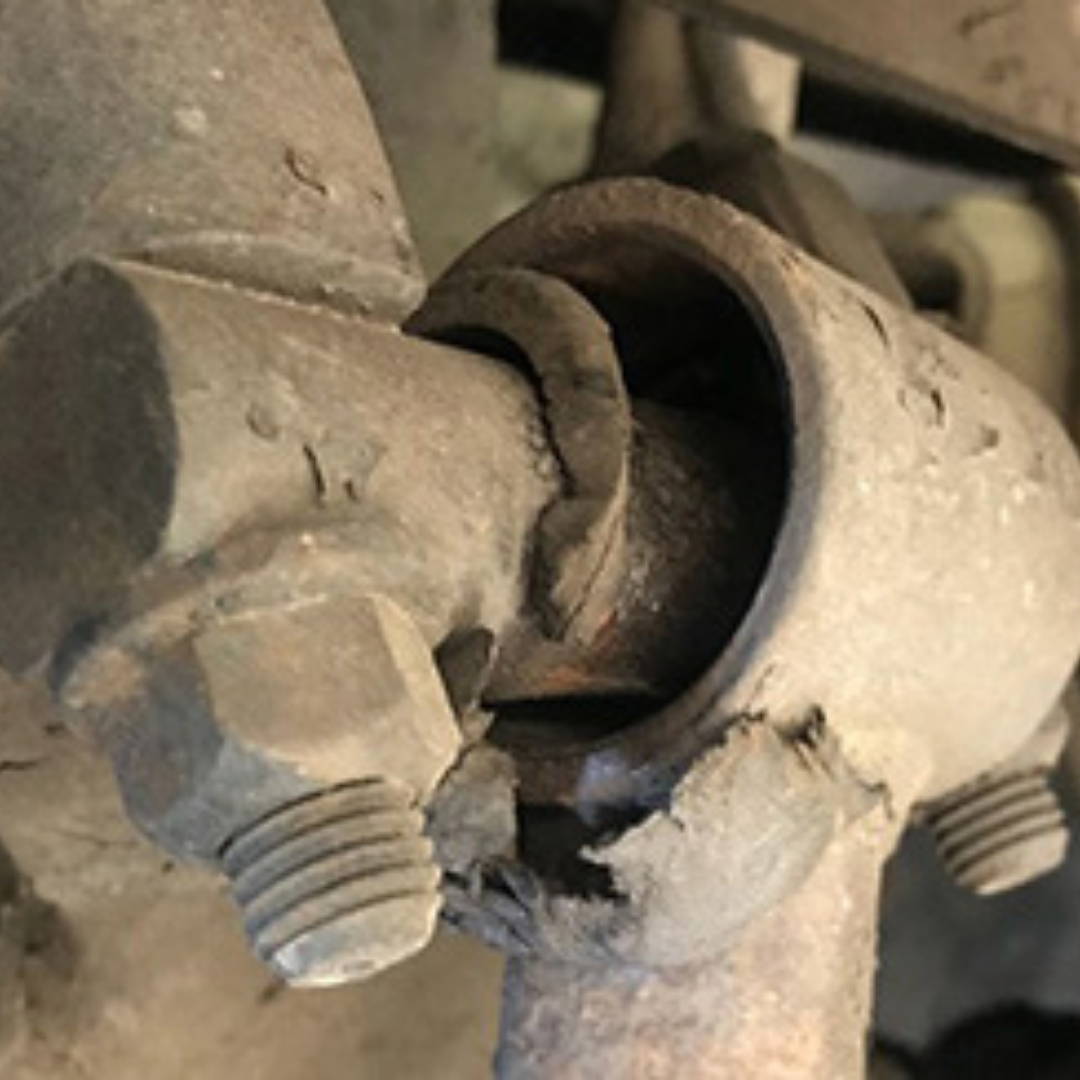 CATASTROPHIC FAILURE
This is usually by one of the other issues going unnoticed to the point the elastomer deteriorates completely.
BUSHING WALKOUT
This can be caused when the transverse rod is not perpendicular to the frame rail.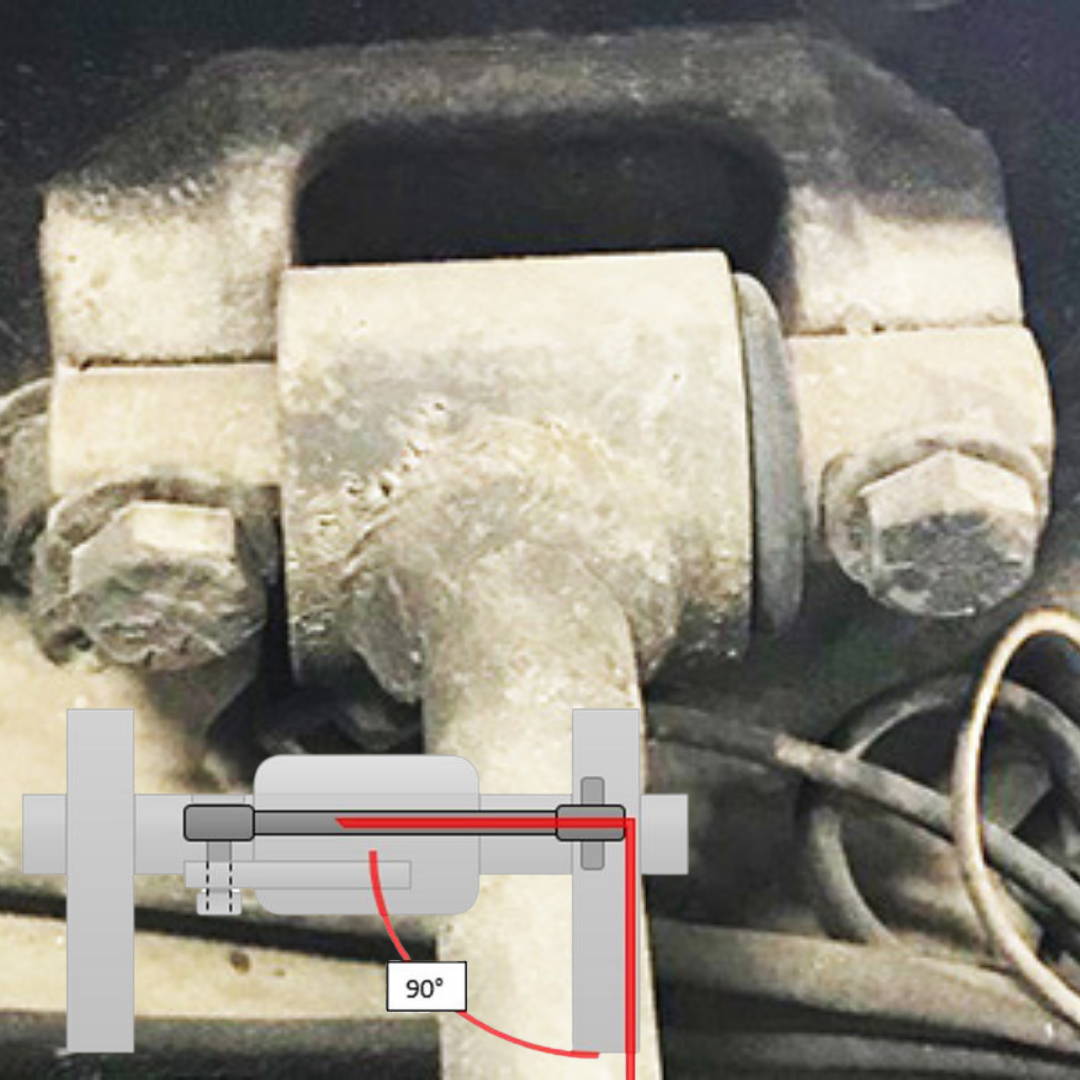 BENT OR BROKEN RODS
This is typically caused by overloading the suspension or impact such as hitting a curb.
DAMAGED GREASE SEALS
This condition is caused by impact with a foreign object such as road debris or a fifth wheel latch hook.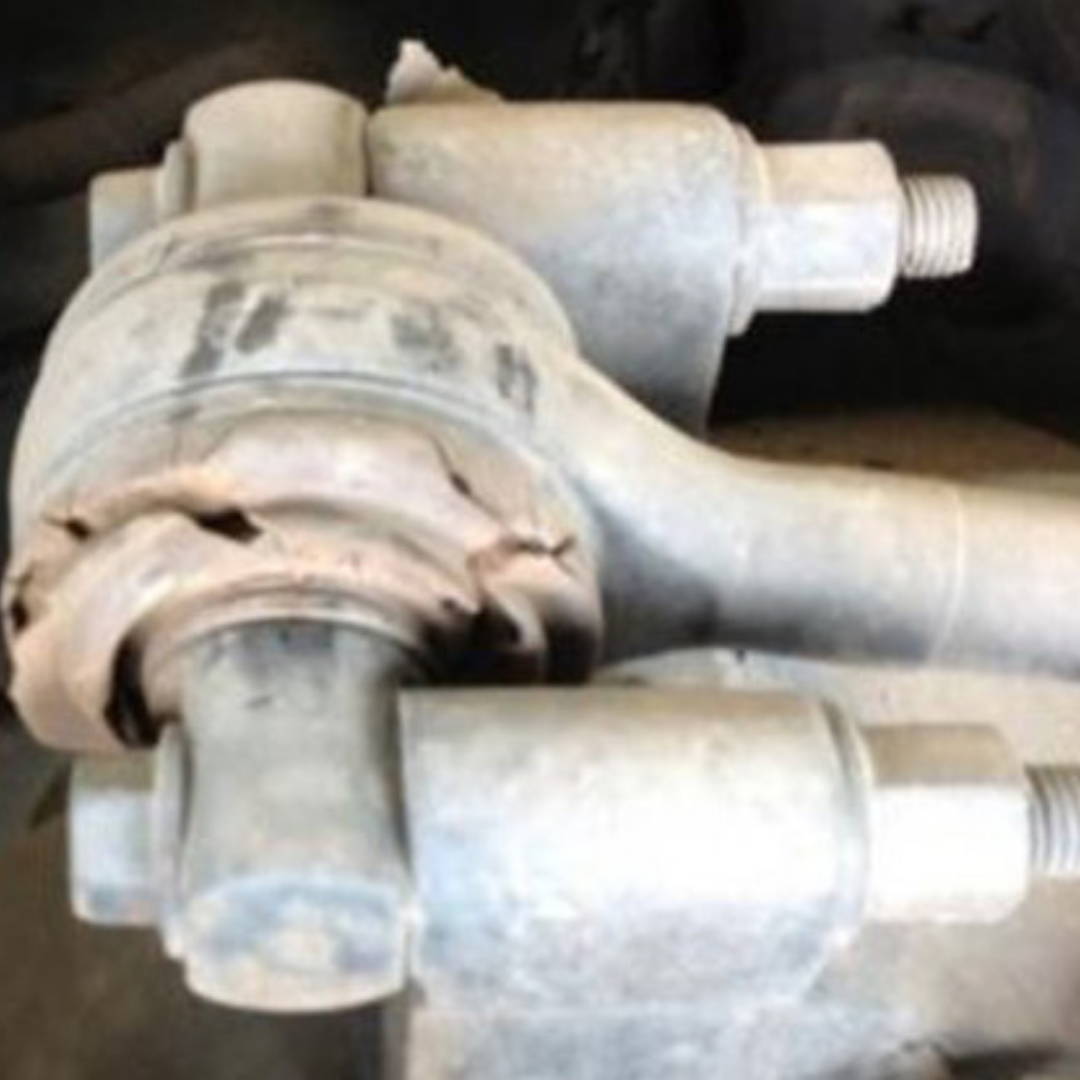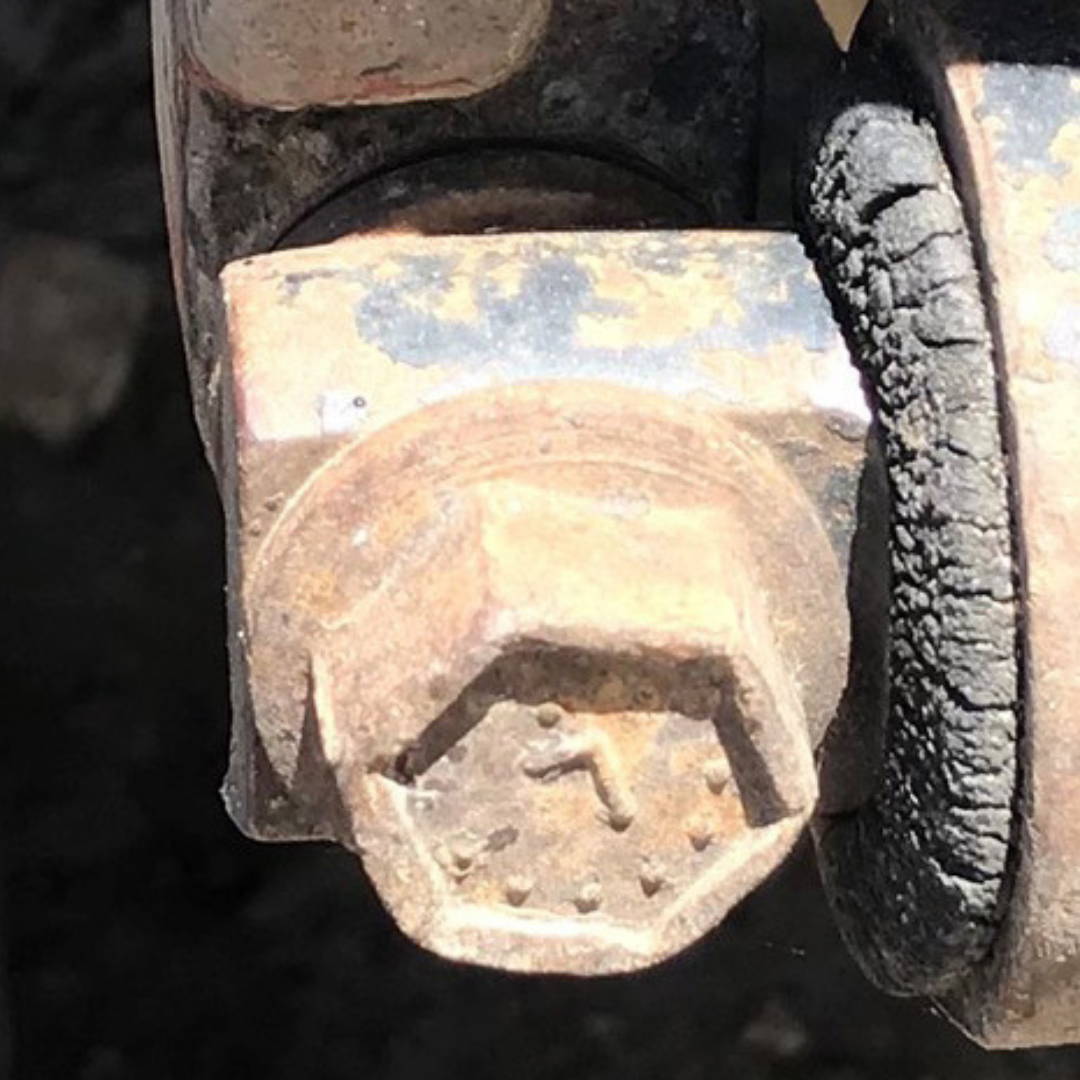 DRY ROT
This is caused by age, heat, UV rays, temperature extremes, ozone, oxidation, and lack of use. It is evident by cracks in what otherwhise appears to be a good bushing. This is a sign that the material has been compromised and should be replaced.
DAMAGED STRADDLE PINS
This can be cause by hardware tightness, mis-alignment, or impact to the rod.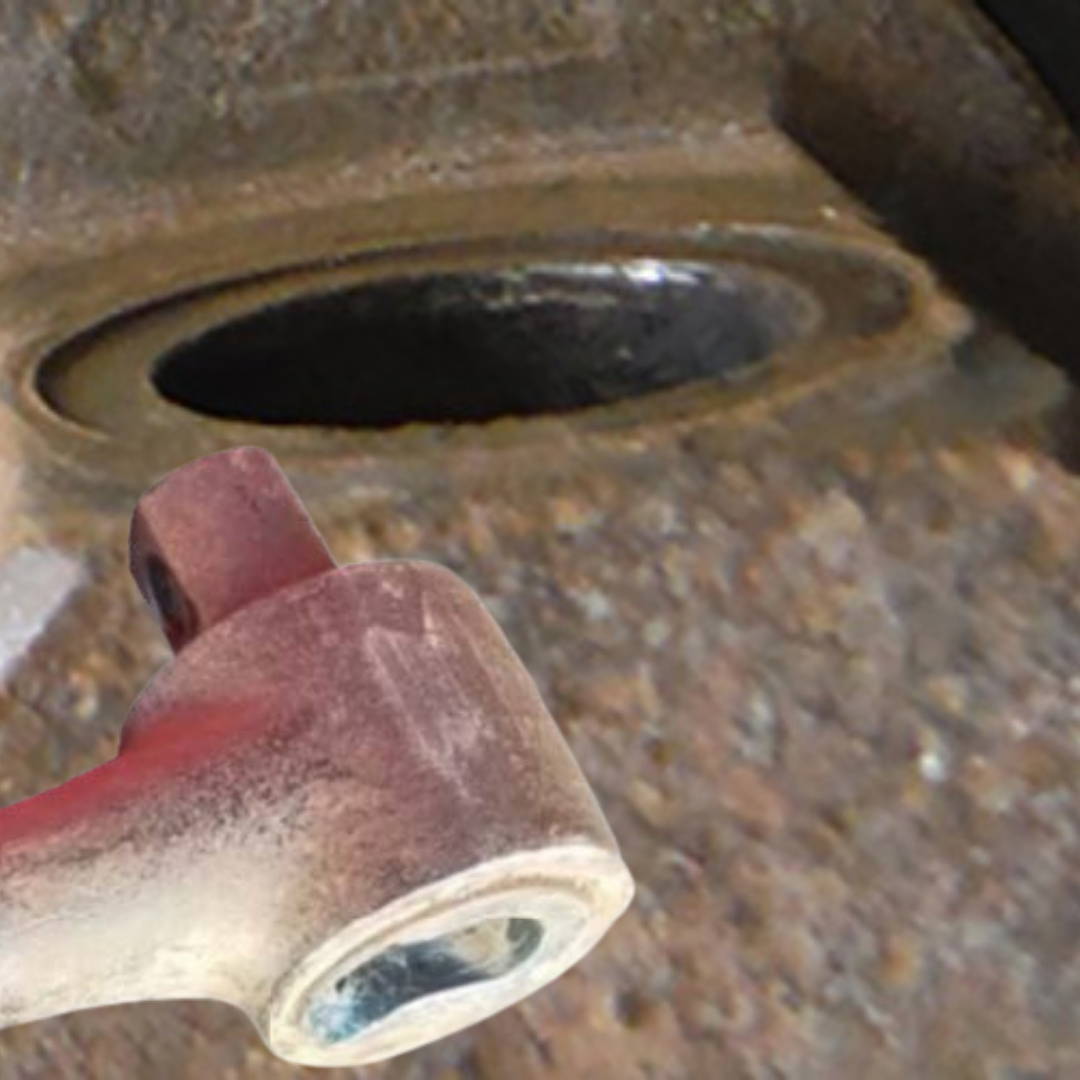 CORROSIÓN
Esto puede ser causado por un ataque químico como el lavado con ácido o los tratamientos de carretera.
ENROLLADO DEL BUJE
Esta es una condición que se produce cuando la sincronización del buje no es correcta. Se puede ver en las grietas de rotación al final de los bujes. Aunque no es técnicamente un fallo, es un indicador de que el fallo se aproxima.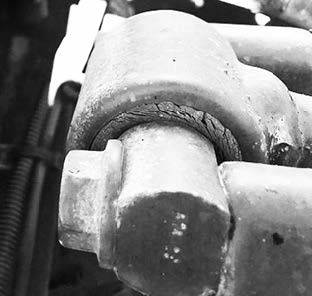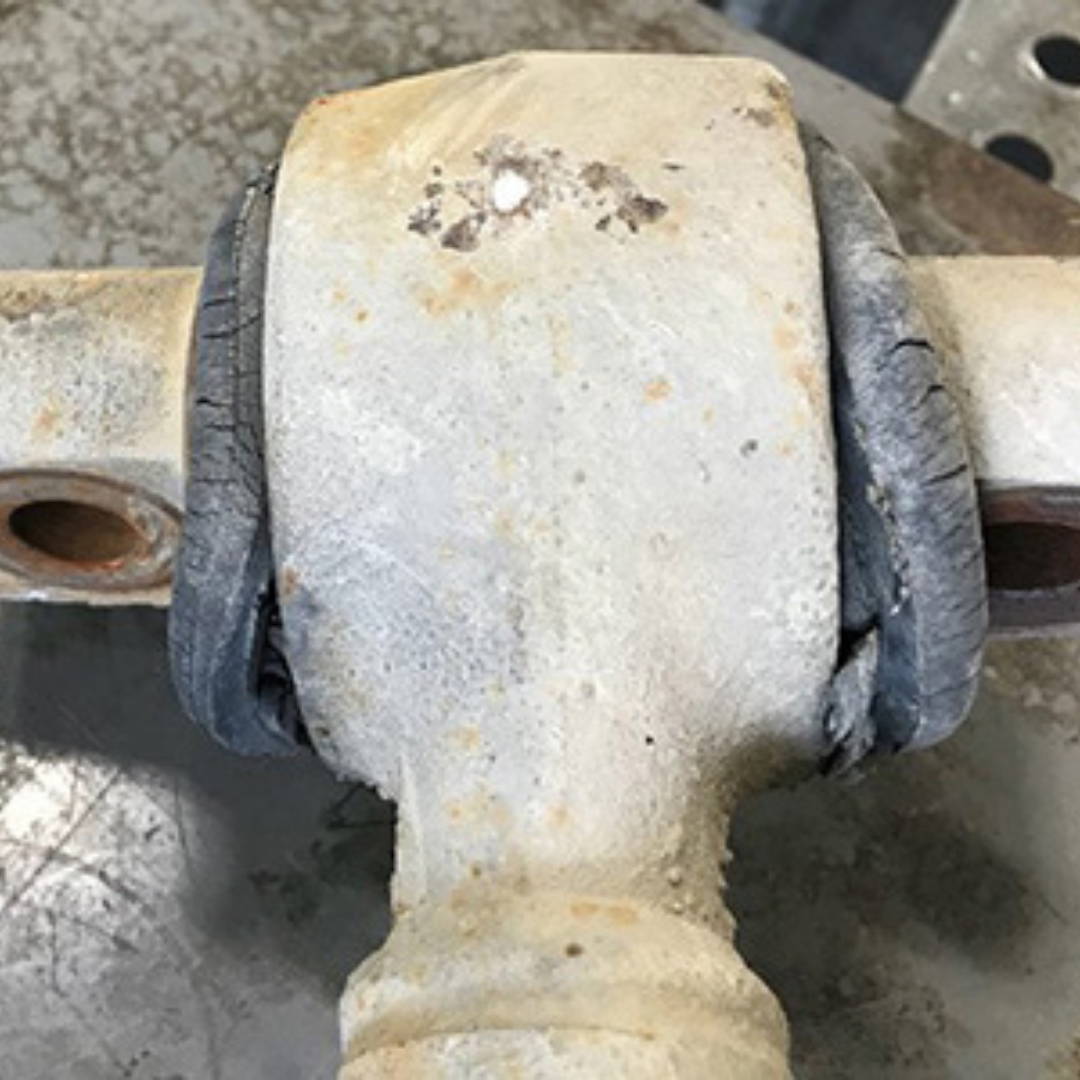 ELASTÓMERO ROTO
Esto puede ser causado por una sobreextensión más allá de las capacidades de articulación o por golpes repetidos en el buje.
EXTRUSIÓN O DEFORMACIÓN DEL BUJE
Esto puede ser causado por exceder la calificación de la suspensión o por contaminantes que causan una condición de "empapado de aceite".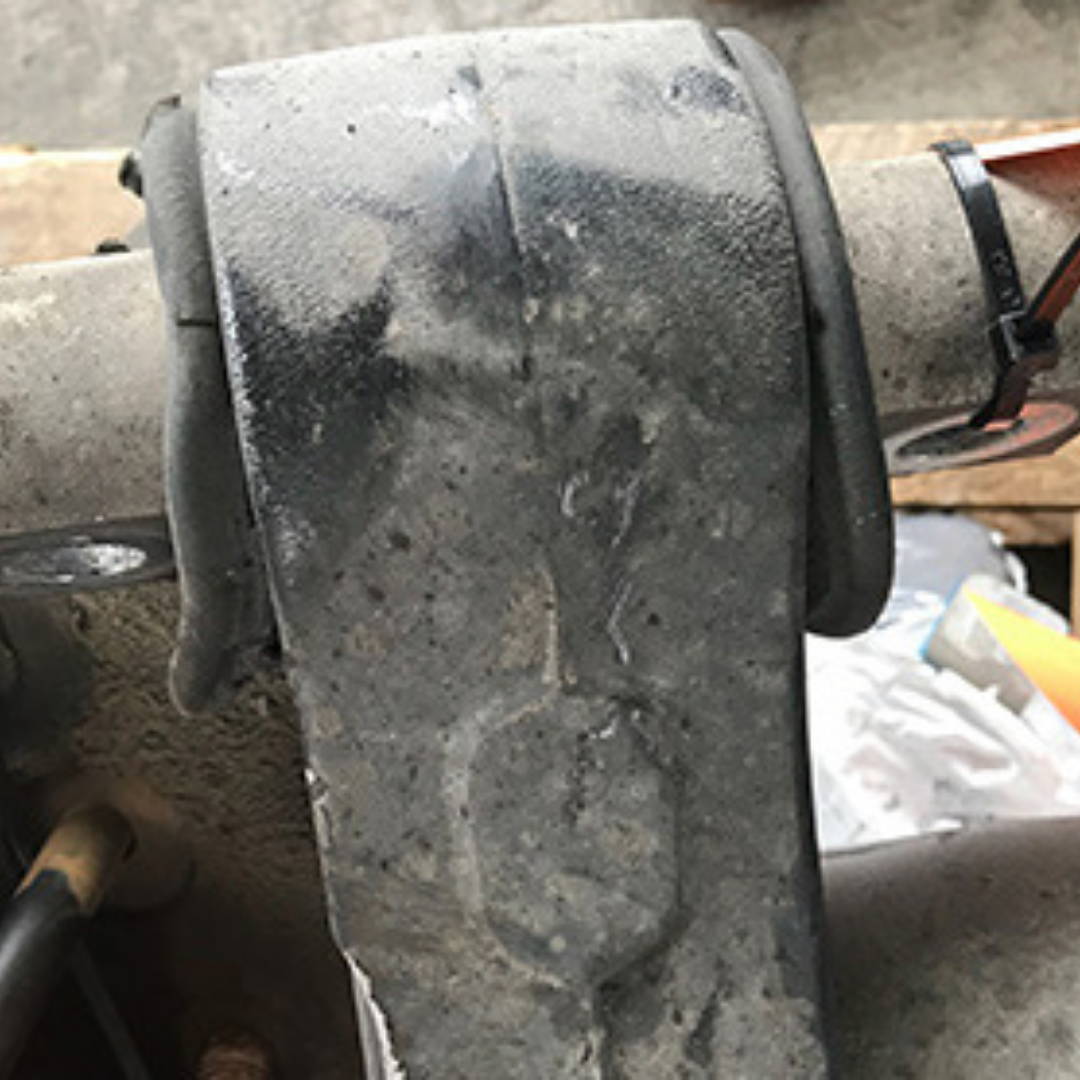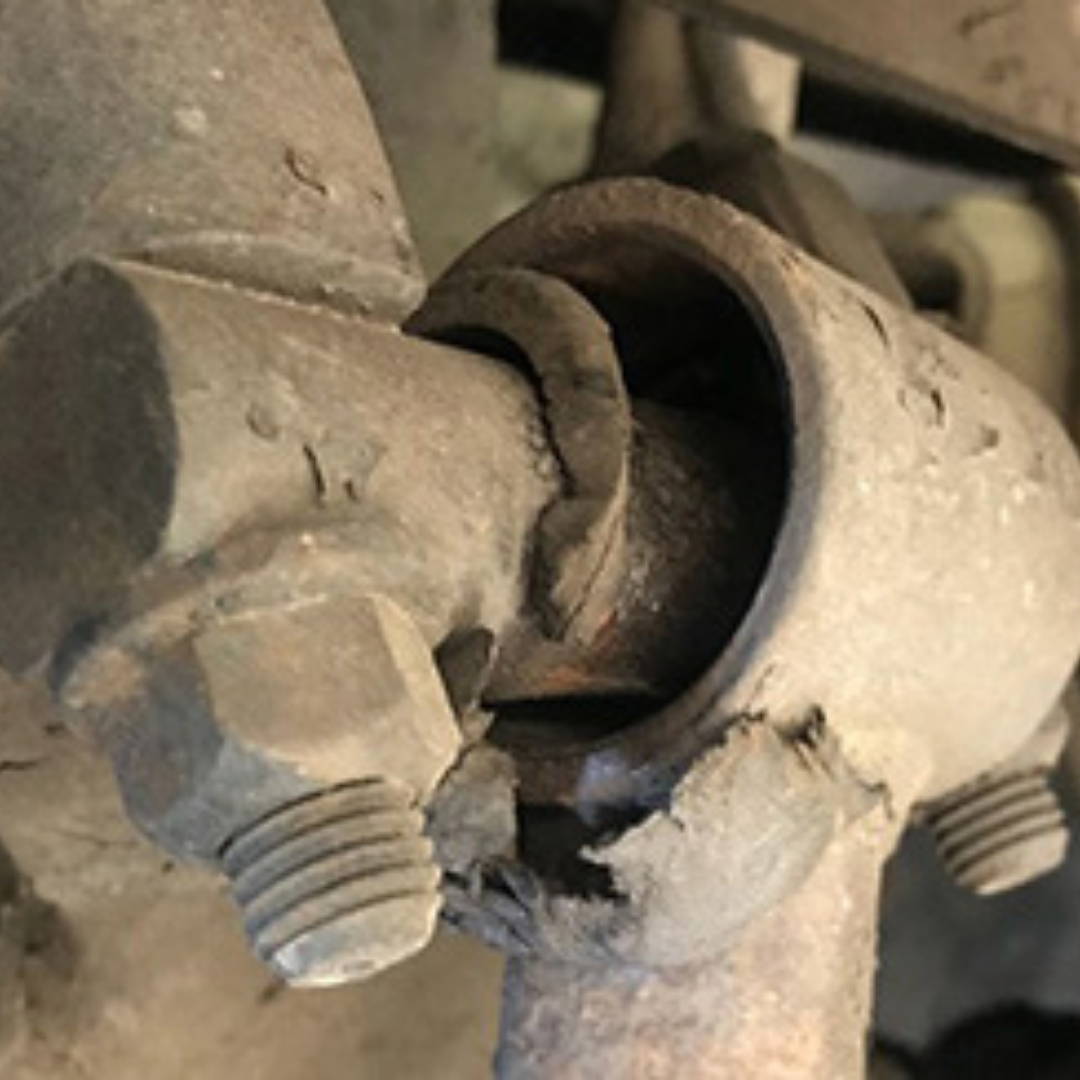 FALLO CATASTRÓFICO
Esto generalmente se debe a que uno de los otros problemas pasa desapercibido hasta el punto en que el elastómetro se deteriora por completo.
SALIDA DEL BUJE
Esto puede ocurrir cuando la barra transversal no está perpendicular al riel del marco.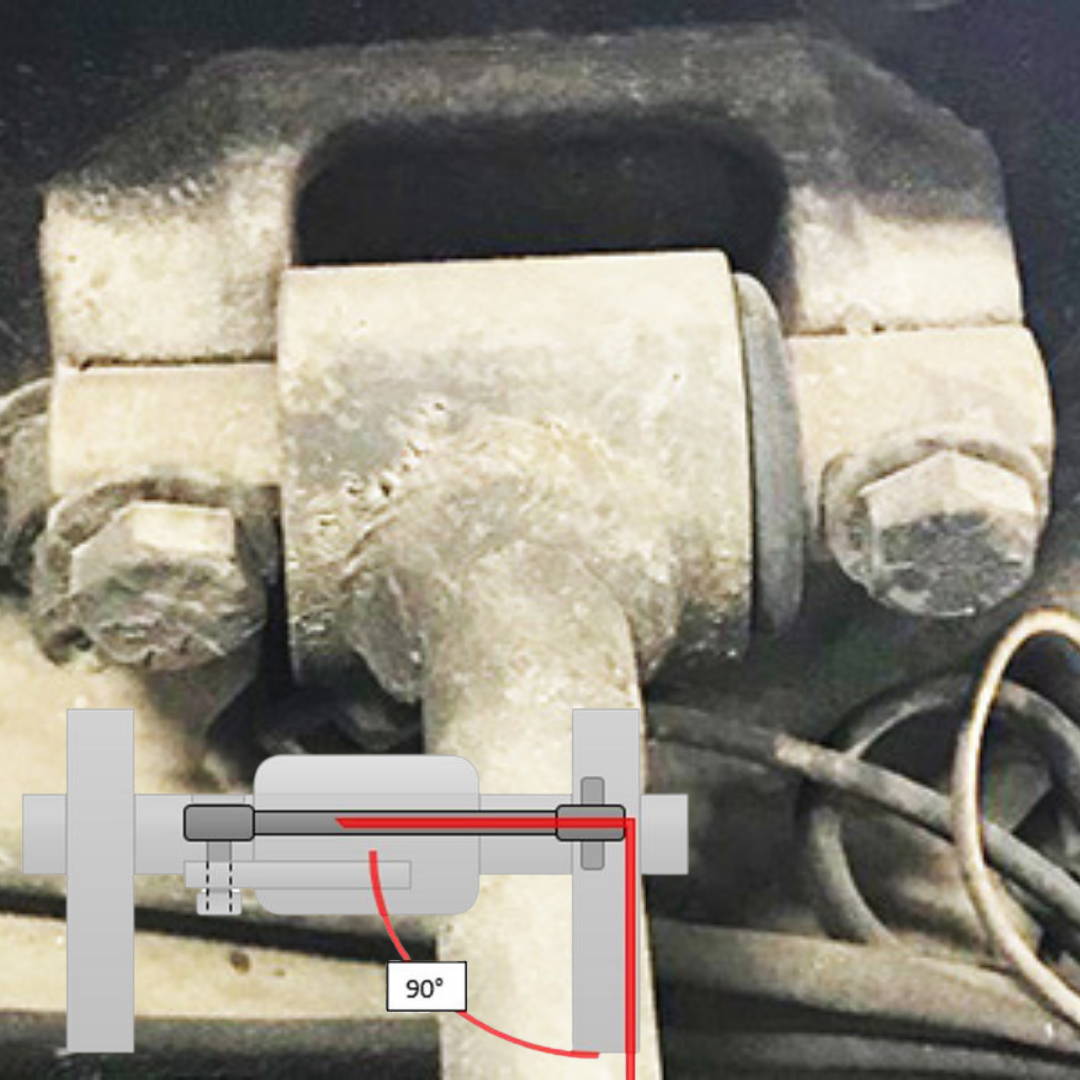 VARILLAS DOBLADAS O ROTAS
Esto generalmente se debe a una sobrecarga de la suspensión o un impacto, como por ejemplo, al chocar contra un bordillo.
SELLOS DE GRASA DAÑADOS
Esta condición es causada por el impacto con un objeto extraño, como restos en la carretera o un gancho de seguridad de la quinta rueda.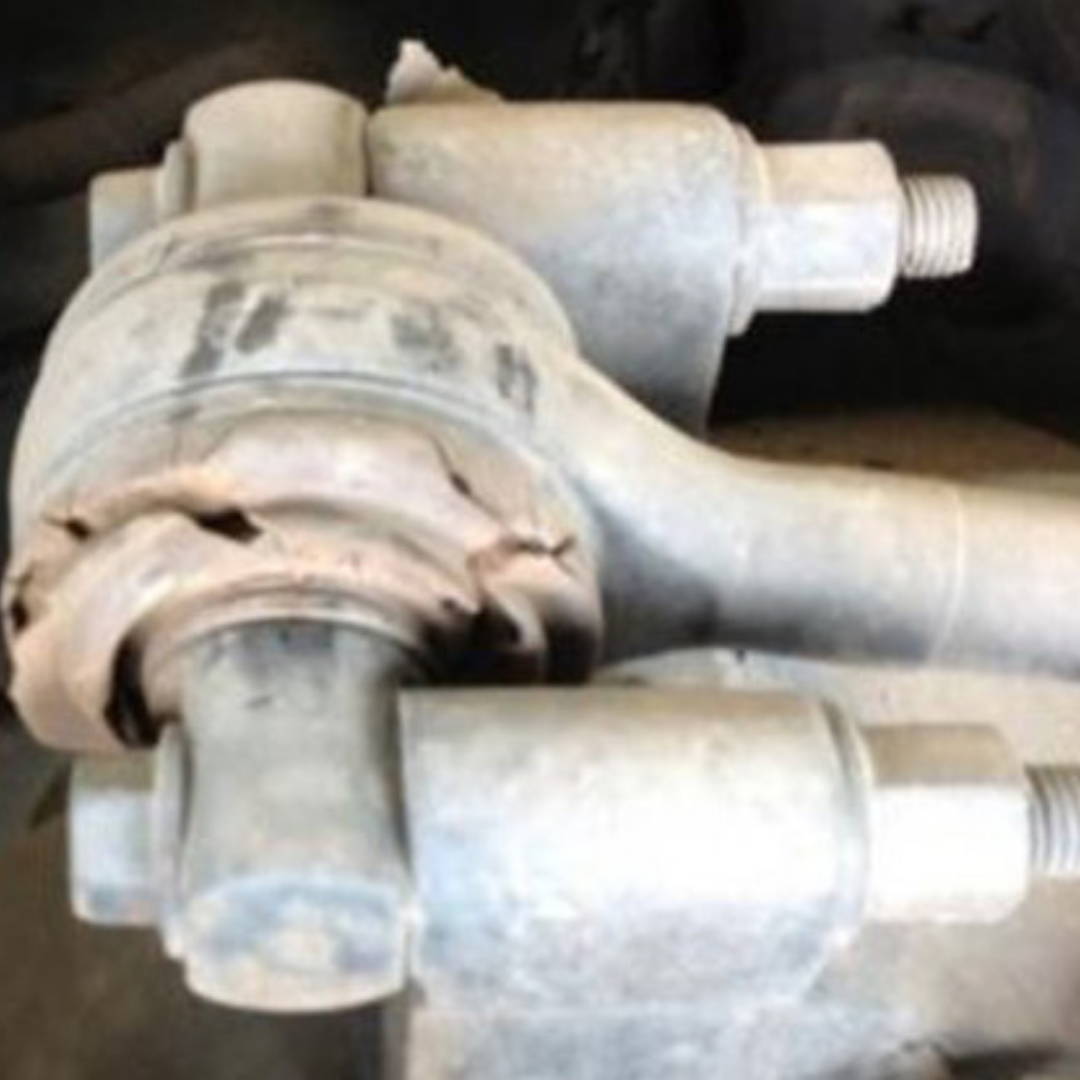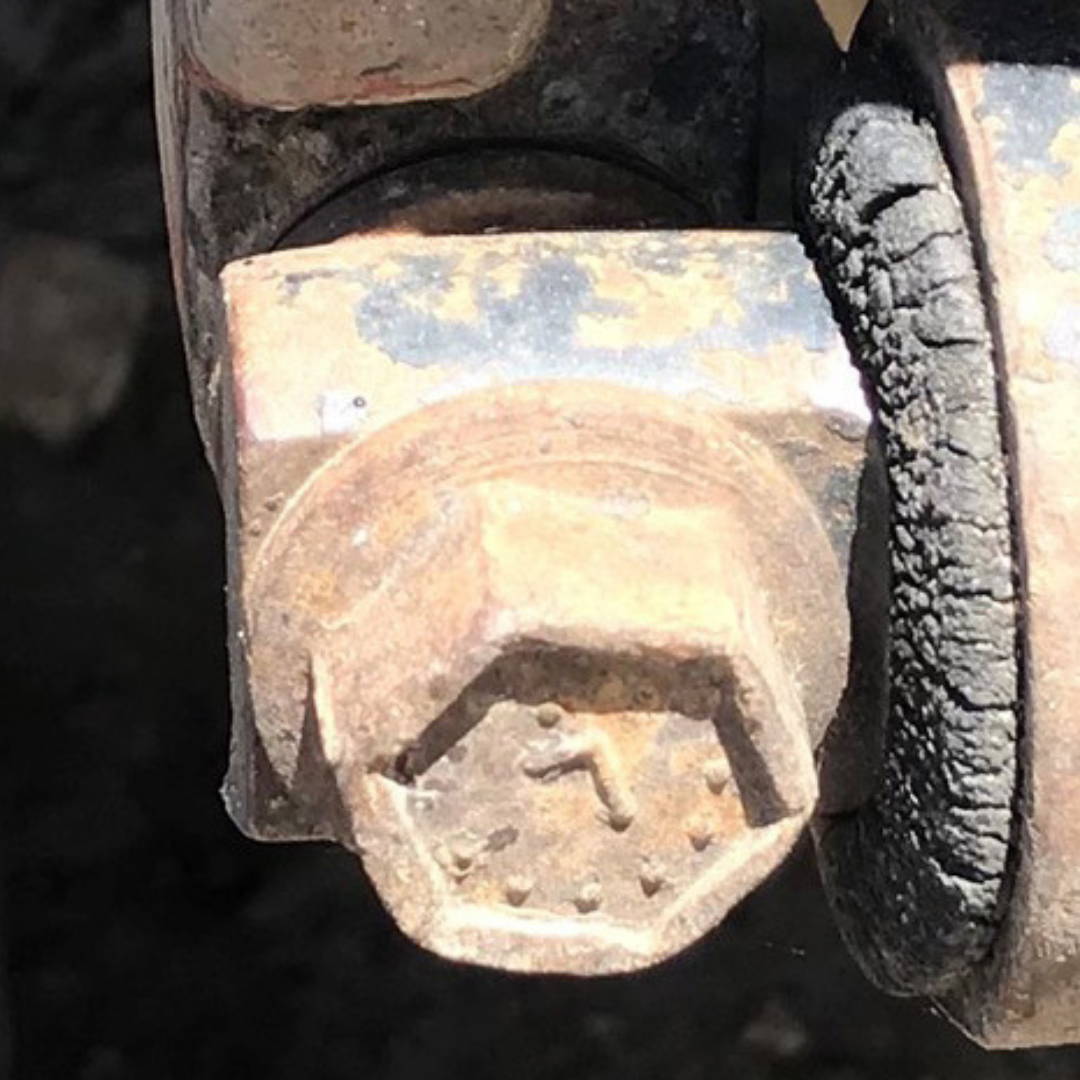 PUDRICIÓN SECA
Esto es causado por la edad, el calor, los rayos UV, las temperaturas extremas, el ozono, la oxidación y la falta de uso. Es evidente por las grietas en lo que de otro modo parece ser un buen buje. Esta es una señal de que el material ha sido comprometido y debe ser reemplazado.
PASADORES DAÑADOS
Esto se debe a que los herrajes estén apretados, a una mala alineación o a un impacto en la varilla.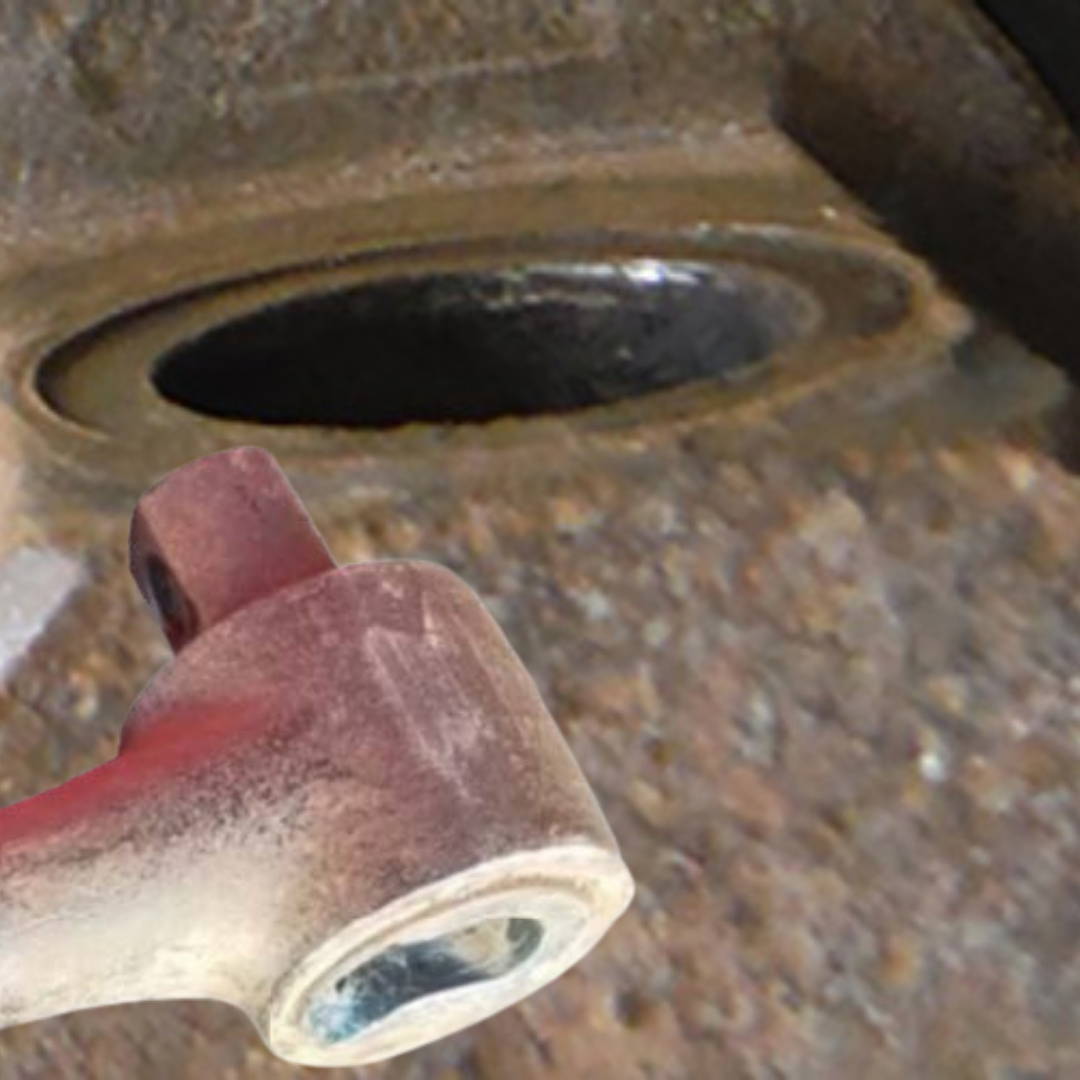 Subscribe to our Newsletter

Receive our latest weekly release, offers, guides and more...